Planting Vivid Step by Step
May 2, 2021
AGTrust Web Team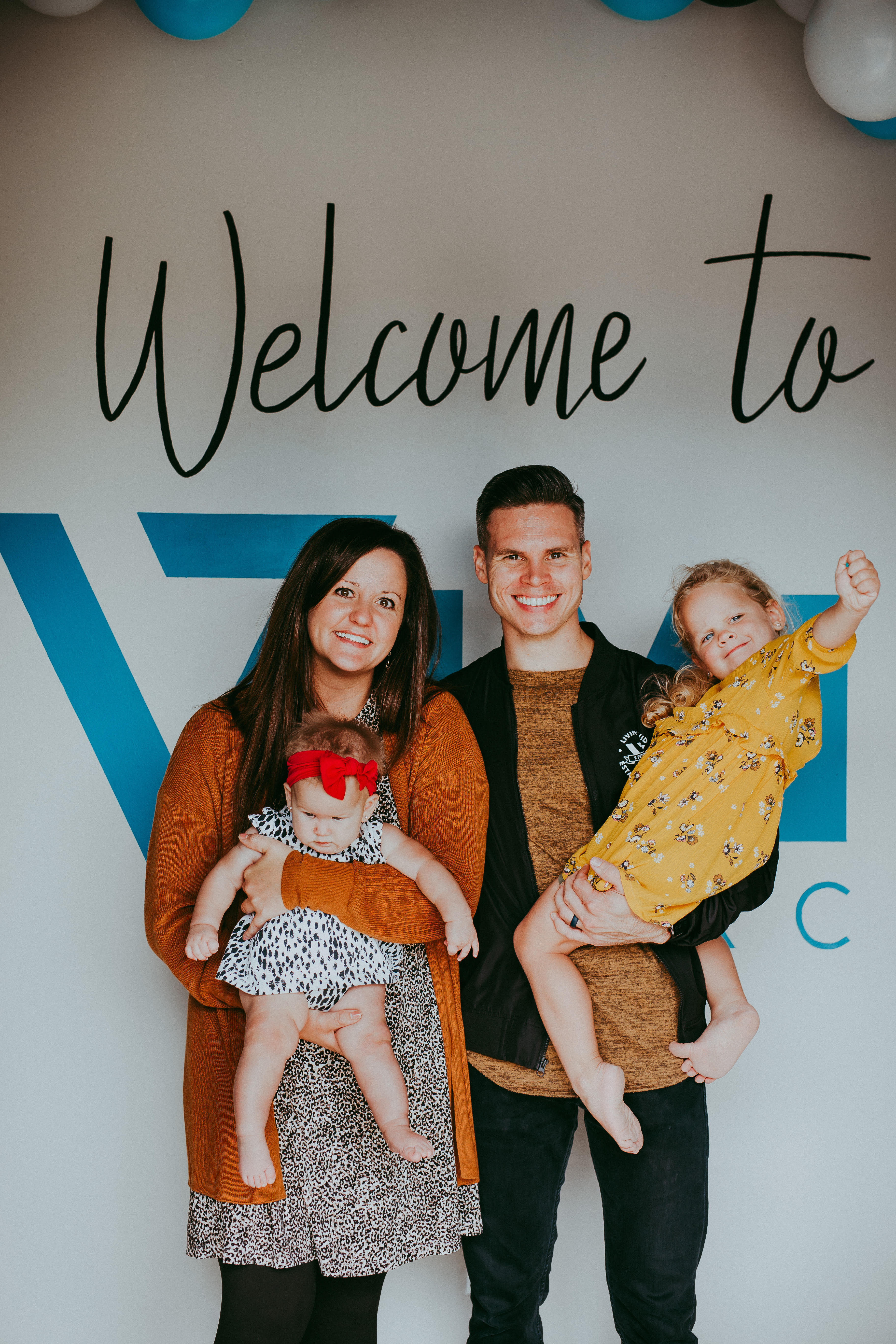 Pastors Allen and Amanda Kendrick (and children)
Lexington, South Carolina
"Moving to a city where we had never lived before and planting a church in the middle of a global pandemic was the hardest assignment we have ever been given. But the AGTrust Matching Funds and the support of The Church Multiplication Network gave us the momentum we needed to secure a storefront facility with 24/7 access, where our church could launch. THANK YOU!"


Vivid Church launched in Lexington, South Carolina, on September 20, 2020, with three services and a total of 248 people attending. That celebration day represented months of prayer and preparation by Pastors Allen and Amanda Kendrick and their launch team.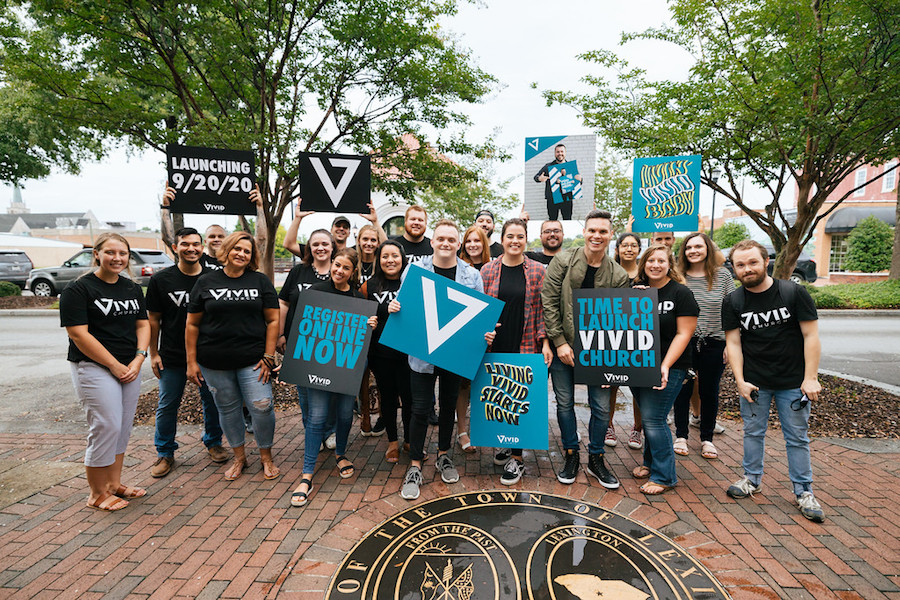 Pastors Allen and Amanda Kendrick launched Vivid Church in Lexington, South Carolina, in September 2020.
Allen and Amanda, graduates of Southwestern Assemblies of God University in Waxahachie, Texas, are originally from Alabama.
"The story of Vivid Church began in my heart while I was visiting a monastery in California for four days of solitude and silence in early 2019," Pastor Allen says. "I had been serving as Young Adults Pastor at a church in Southern California, but I felt the Lord impress me that it was time to move back to the south and plant a church. Several months later, Amanda and I visited South Carolina and knew that was the place we were called to. We moved without knowing anyone and without anyone coming with us for support."
But by January 2020, the Kendricks had an initial launch team of 12 people who met together to discuss their dream of starting a church. In March, they hosted the first interest gathering at Coffee Haven in downtown Lexington and 74 people came.
Several interest gatherings were held at venues in the community by the Vivid Church team, giving people opportunity to learn about the upcoming launch and the vision of Vivid. The first interest gathering at Coffee Haven was attended by 74 people.
In addition to having more interest gatherings, the Vivid team began reaching out to help their city and to form relationships with people. They identified three essential personnel groups they could serve during the early stages of the COVID pandemic: Lexington Medical Center, local firefighters, and local police officers.
To also support hurting businesses, the Vivid team purchased 500 Zombie donuts and 600 Piecewise cups of coffee during a 4-week period and took them to Lexington Medical Center to bless the hospital workers, who had been working around the clock. Next, they purchased over 100 pizzas from two local businesses and took lunch to the frontline firefighters and policemen over a period of several weeks.
In May 2020, they partnered with the local Farmers Market and served free water every Saturday to anyone they met there. Countless conversations took place and relationships were formed with people who indicated their interest in becoming part of a life-giving community centered on faith in Jesus.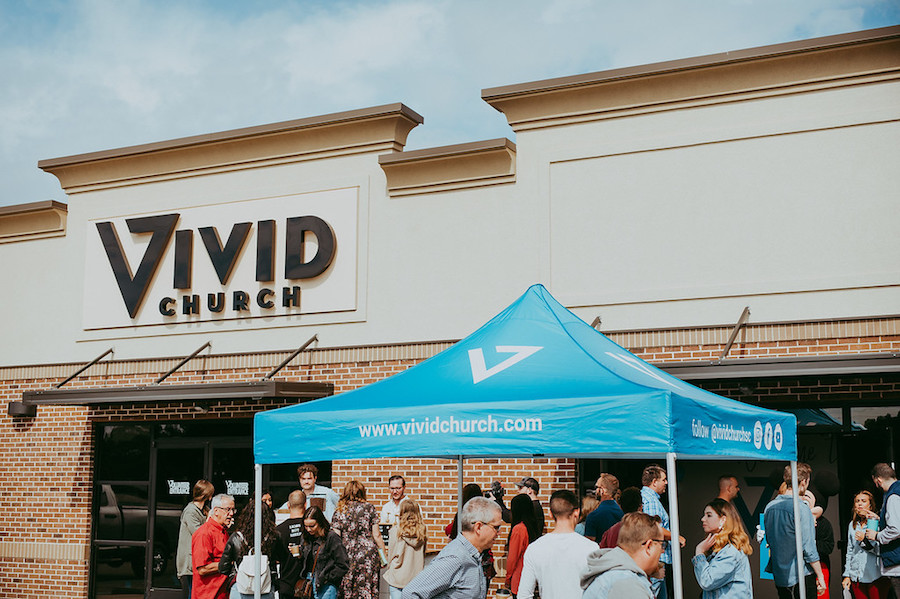 A total of 248 people attended the three services offered on launch day at Vivid Church's storefront facility. On Easter Sunday 2021, Vivid had four services and a total of 432 people attended in person.
In June, the Vivid team began meeting weekly for prayer and worship at Pastor Allen's house, and in July they secured a storefront facility for Vivid church and began renovations. In August they dedicated 21 days to prayer and fasting to ready their hearts for what God wanted to do.
On launch day in September, Pastors Allen and Amanda Kendrick were officially installed as the lead pastors of Vivid Church by Scott and Jenny Wilson, pastors of The Oaks Church in Red Oak, Texas.
"The Oaks Church is our parent church," Allen says. "The Wilsons and the church have been paramount in the success of Vivid Church. They have loved us, resourced us, and walked with me and Amanda as spiritual parents in the faith."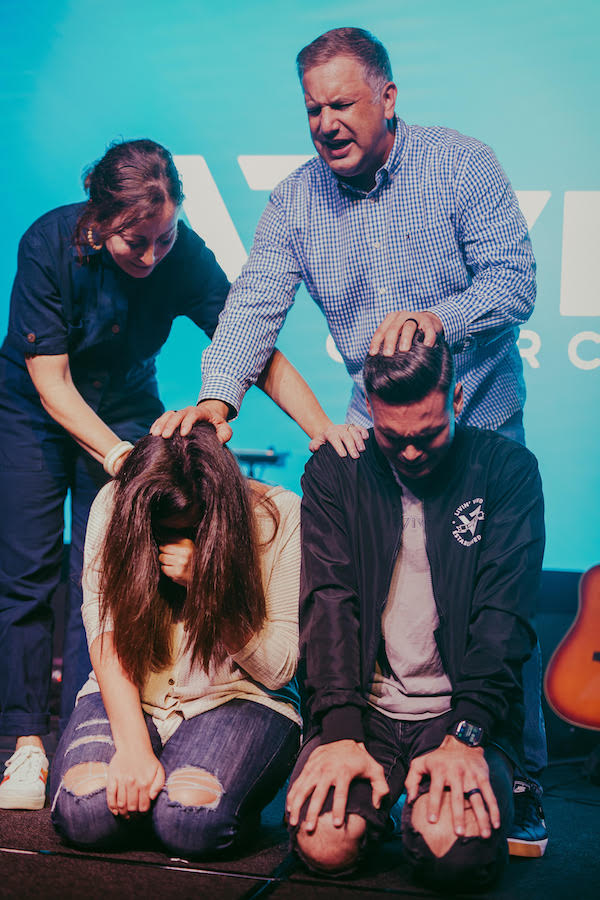 Scott and Jenny Wilson, pastors of The Oaks Church in Red Oak, Texas (the parent church of Vivid), pray God's blessing upon Pastors Allen and Amanda Kendrick on launch day.
Since the launch, Vivid Church has seen at least 40 people come to know Jesus. Dozens of people have joined small groups. The team now has 85 people serving on it. On Easter 2021 Vivid had four services, and 432 people attended in person. The church has also acquired a building adjacent to their current facility; they are renovating it to house ministry to Vivid kids ages 6-10 on weekends and provide meeting space for other ministries throughout the week.
"There is nothing more exciting," Pastor Allen says, "than witnessing the transformational power of the gospel touch someone's life and save their soul. With all that God did through Vivid Church in 2020, imagine what He will do in 2021!"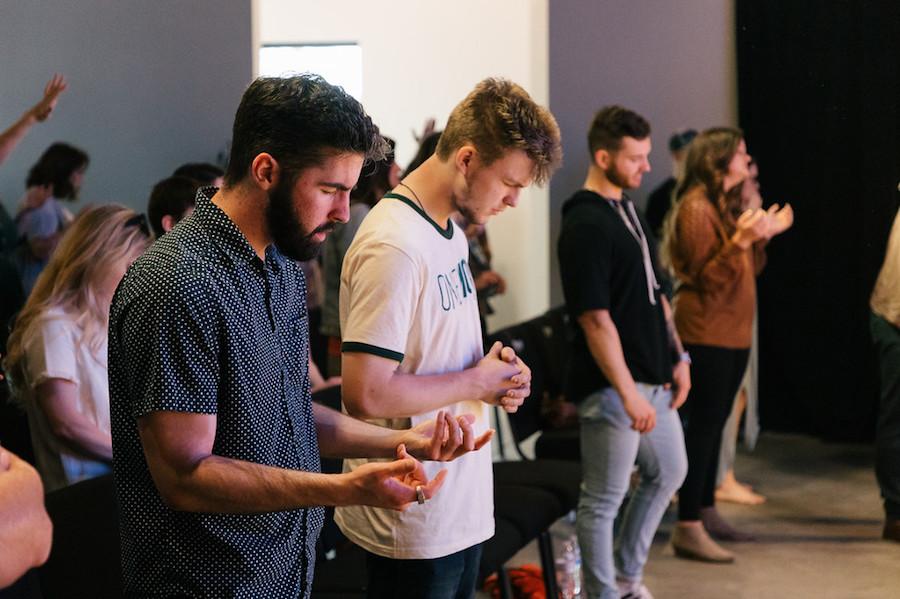 At least 40 people have accepted Christ at Vivid Church since launch day.
---
THANK YOU for helping AGTrust and CMN to plant and equip healthy churches like Vivid Church in Lexington, South Carolina. More than 600 church plants across America are reaching people for Christ today because of your support.