New Community Church Sees 44 People Accept Christ in 8 Months
June 1, 2021
AGTrust Web Team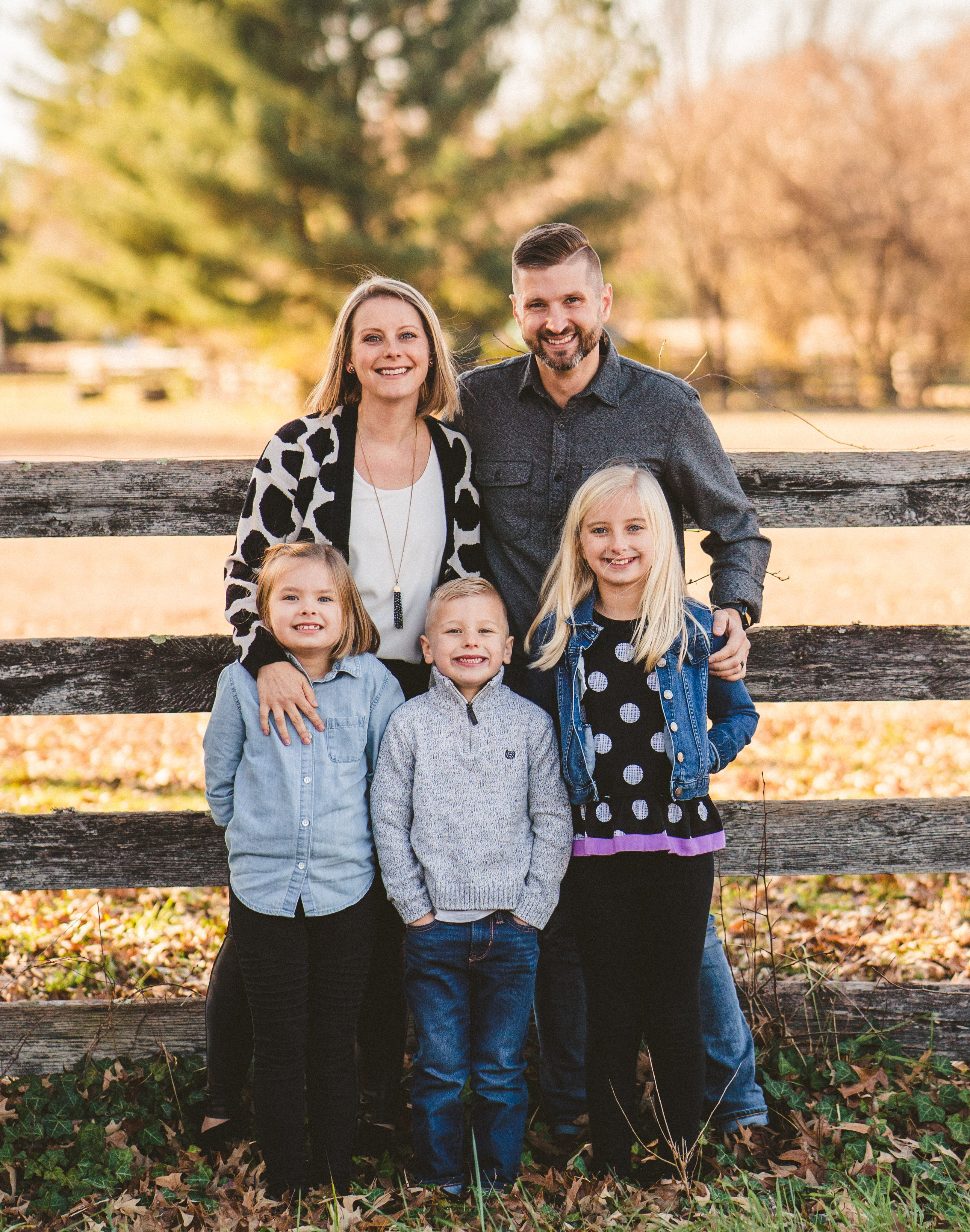 Co-Lead Pastors Brandon and Hannah Baldwin (and children)
"We are so grateful to AGTrust for the Matching Funds provided to New Community Church, and to many other church plants, in cooperation with The Church Multiplication Network. Those funds have allowed us to fulfill the call of God on our lives and advance the gospel in the communities we love."

Brandon and Hannah Baldwin launched New Community Church at the Regal Theater in Glen Allen, Virginia, in person and online in September 2020, in the middle of the COVID-19 pandemic. A total of 297 people attended.

Two weeks following New Community's launch, Regal Theater closed all of its locations across the nation, laying-off 40,000 employees, including the local Regal General Manager. Although not a follower of Jesus, that general manager spent his last week of work finding a solution for the church to continue meeting in that theater space. Miraculously, Regal agreed to his plan.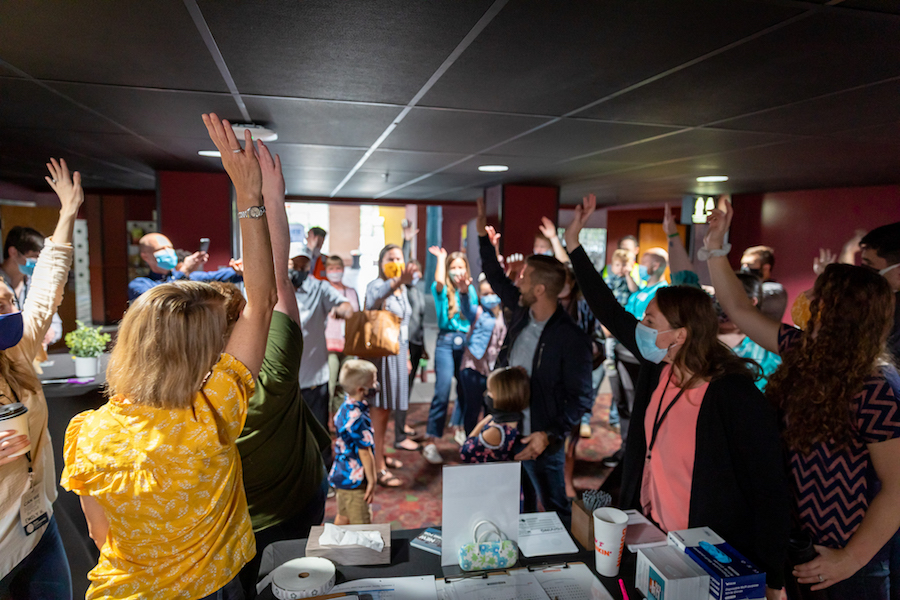 New Community Church launched in September 2020 in the middle of the COVID-19 pandemic online and in person at the Regal Theater in Glen Allen, Virginia, with 297 people in attendance.
"We have been able to meet every Sunday since," Brandon says, "and we were the only church in Virginia that was allowed to continue to meet in a Regal theater. It was an answer to a word God gave us that He would open a door no man could shut (Rev. 3:7). The local general manager not only fought for us, but also for the kingdom of God. We can't wait for the day we celebrate his baptism!"
More than 100,000 people reside within five miles of New Community Church's location on the north side of Richmond. It is estimated that 61,000 of those are disconnected from church and a relationship with Christ. One out of every four children live in a fractured home, without both parents. The suicide rate in the community has risen for the past eight years, even before the pandemic, and now surpasses the national average. These statistics reflect signs of a community that is broken and in despair.
But during the first eight months of New Community's outreach, 44 people have accepted Christ. The church has empowered at least 15 small group leaders to make more disciples and ministered to 63 children.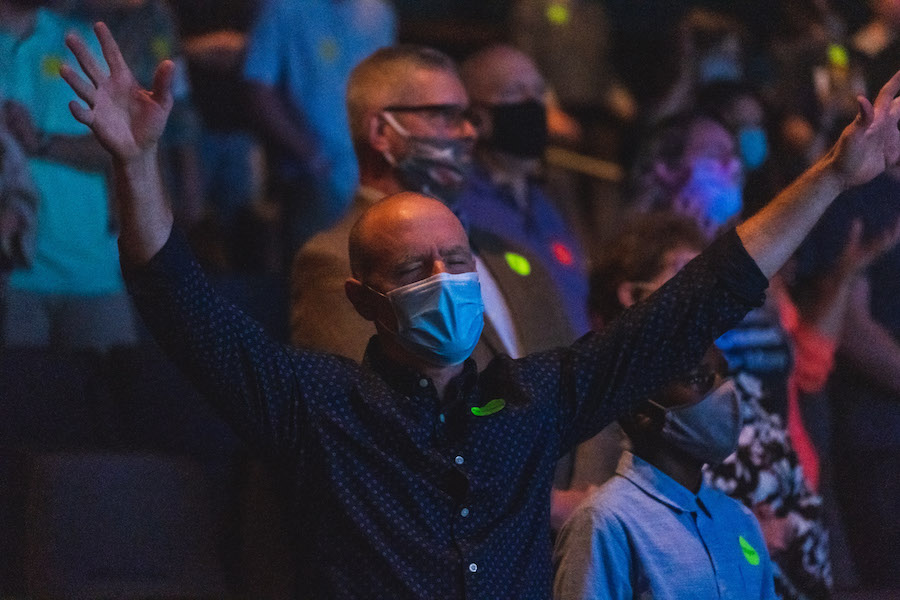 Since the September 2020 launch, 44 people have accepted Christ at New Community Church.
"I invited my friend and her daughter, Mazie, to come see our son play Joseph in the church's Christmas play," Co-Lead Pastor Hannah says.
Seven-year old Mazie had never been to church and didn't know the names of Joseph, Jesus, or the other people in the Christmas story.
"Mazie is unchurched, just like 33,000 other children who live within five miles of our church's location," Hannah says. "But God knows every one of those children by name, and He has a purpose for each one. At New Community, we have had many 'Mazies' come through our doors, and our Kids Team takes seriously their ministry to lead them to Jesus and the full life God has created for them." A grandmother who attends New Community began bringing her granddaughter to church. Over the past few months, that little girl has started understanding more of Jesus' love for her, and as a result her whole family has started coming.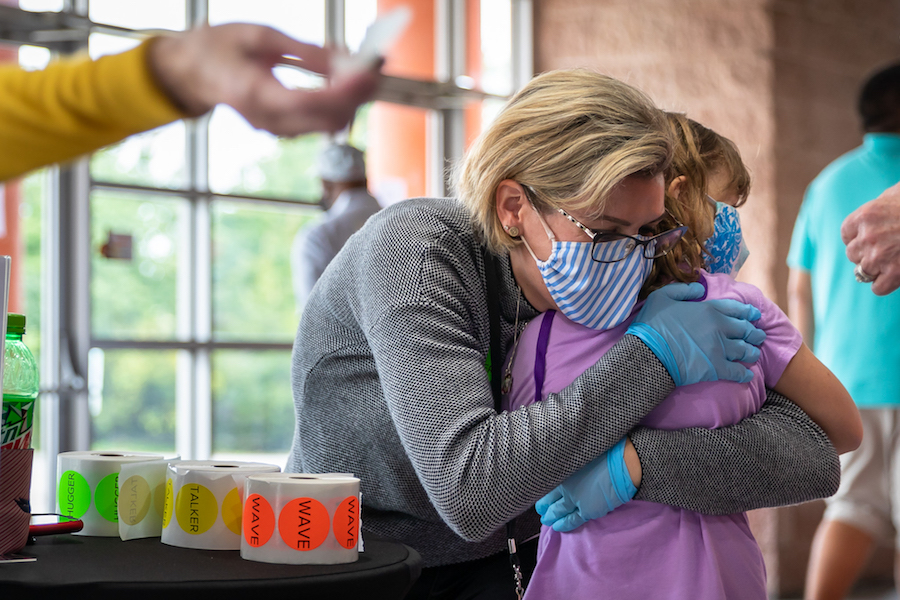 The Kids Team at New Community loves the children who come and takes their responsibility seriously to help them know Jesus.
Prior to planting New Community Church, Pastor Brandon was driving along a highway and saw a forest fire. He sensed God say to him: Don't miss the forest fire while you're looking for your burning bush.
"I knew God was using the forest fire to speak to me about the current state of spirituality in America: the staggering rate at which people are leaving the church, the unchurched in our generation, and the need for new churches to reach them. It was as if God were challenging me not just to know the stats and data, but for me and Hannah to go do something about them. That's what we hope to do through New Community Church."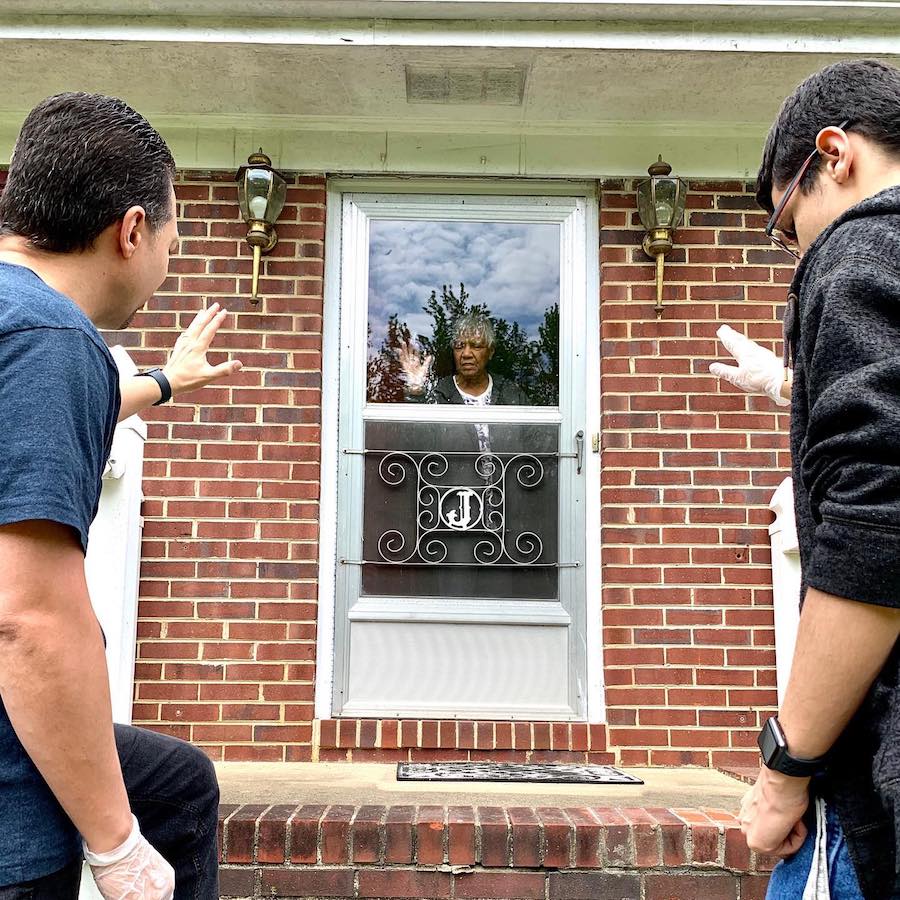 A woman who is shut in due to COVID risk receives groceries delivered to her door by members of New Community church, and they pray with her. New Community partnered with other local churches and food banks in this outreach.
In Fall 2021, New Community Church plans to launch a second campus in Ashland, Virginia. God has opened this door and miraculously provided $100,000 in funds above the church's fund raising for the new campus church.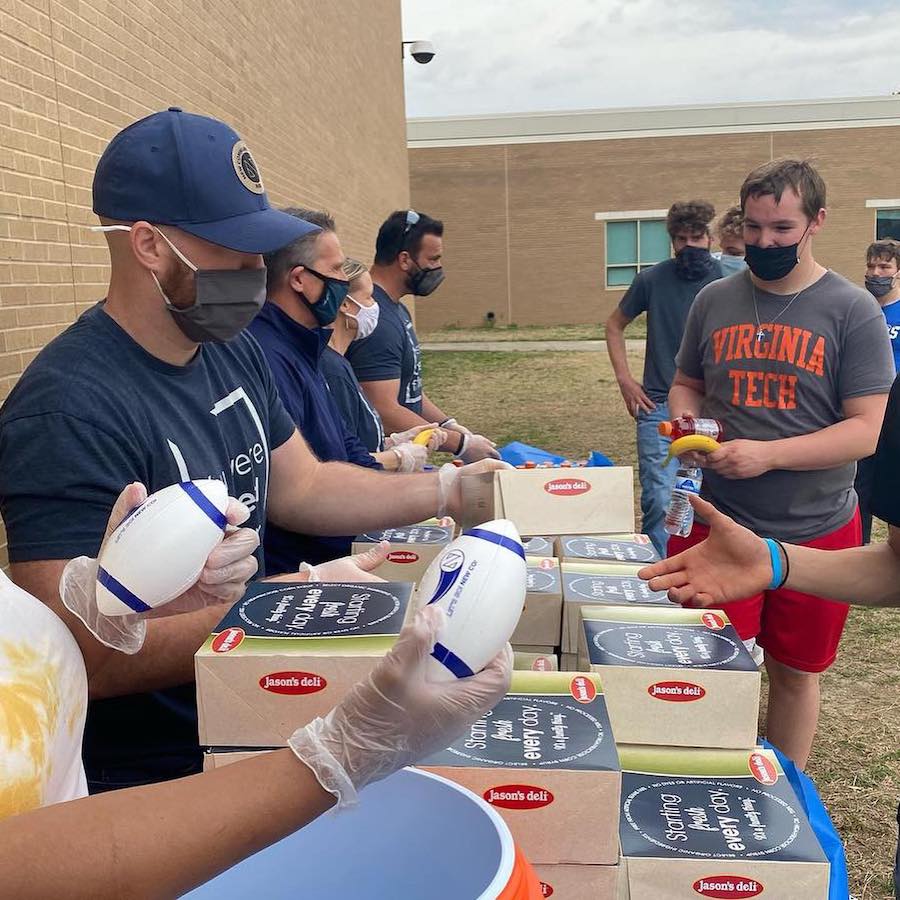 New Community Church feeds 98 JV and Varsity football players and coaches at the local high school before the game as a way to support them during the pandemic.
Prior to launching New Community Church as Co-Lead Pastors, Brandon and Hannah served on staff at Cornerstone Assembly in Chesterfield, Virginia. An ordained minister, Brandon earned the M. Div. from Regent University in Virginia Beach, Virginia. A licensed minister, Hannah earned a B.A. degree from Lee University in Cleveland, Tennessee.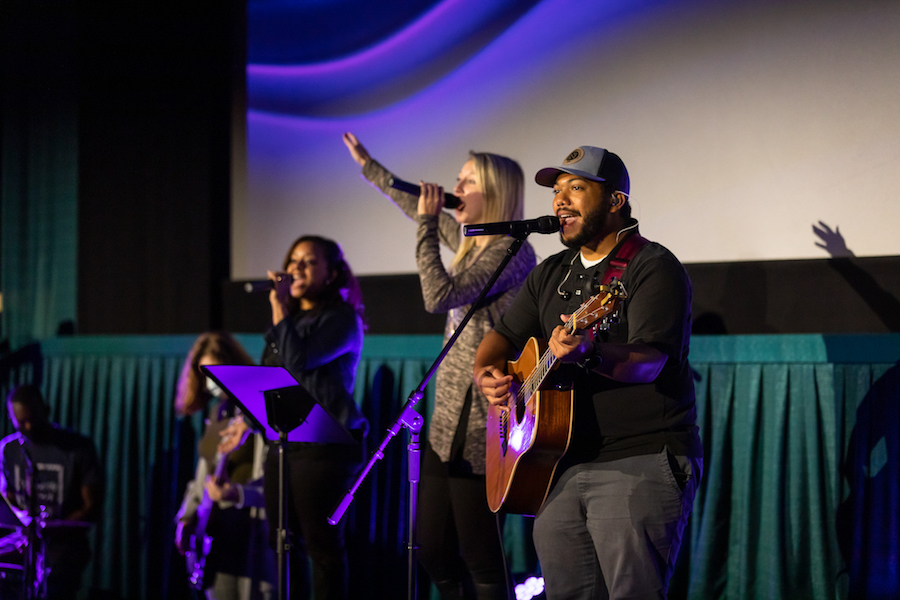 Worship team at New Community Church
---
YOUR GIFT TODAY will help AGTrust and CMN to plant and equip more healthy churches like New Community Church in Glen Allen, Virginia. Currently, 613 new churches across America are reaching people for Christ today because of your support.